Last week, the United Nations Postal Administration (UNPA) issued a "special event mini-sheet" featuring Sun Wukong (also known as "Monkey King"), who was featured in the 16th-century Chinese novel Journey to the West, which was published during the Ming dynasty.
In the novel, the Monkey King is described as a monkey born from a stone. He acquires special powers through Taoism, and after being imprisoned under a mountain by the Buddha, he accompanies the Tang dynasty Buddhist monk Xuanzang on a pilgrimage to retrieve Buddhist scriptures from Central Asia and India.
On Dec. 2, the UNPA issued a mini-sheet marking the 33rd Asian International Stamp Exhibition in Nanning, China. The sheet is available in three denominations of $1.15 USS; two Swiss francs; and €1.70.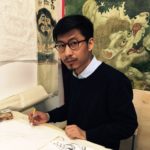 The sheet was illustrated by noted Chinese artist Li Yunzhong, who also designed the 2015 Journey to the West stamp series for China Post. Li Yunzhong was also the art consultant of animated film Monkey King Thrice Beats White-bone Demon (2016); designer of One Belt And One Road character series on Global People magazine; and has successfully organized the restoration project of Fahai Temple mural. Having studied painting since childhood from his grandmother, he took a long-term study of classical literature, especially Buddhism classics, and his works reveal a deep understanding of religions. Rather than making a sketch, Li paints smoothly without strokes and retouching, which makes his works smooth and rigorous.